Smartwatches with a true eSIM are rare in India. If you are interested in such wearable devices, find your smartwatch from the list here. They are also among the best smartwatches based on our review for their features and performance.
What is an eSIM?
According to Wikipedia, an eSIM is an embedded SIM or embedded universal integrated circuit card directly embedded into the device or smartwatch. It allows you to activate a cellular plan from your carrier (e.g. Airtel or Jio) without using a physical nano-SIM card. The process for activating your eSIM is different from carrier to carrier.
A fitness watch with eSIM is also known as a standalone smartwatch because you can use the mobile network without depending on the connectivity of your smartphone's Bluetooth or Wi-Fi.
Amazfit GTR 2 LTE is an upcoming eSIM smartwatch. Huawei Watch Pro 3 and Vivo Watch 2 are also on the launch schedule. Currently, no MI eSIM smartwatch is available to buy in India at the time of writing this page.
Check your best smartwatch with eSIM from the top picks of 2022.
Top Best eSIM Smartwatches for 2022
1. Samsung Galaxy Watch
It is only an eSIM smartwatch in India from the Samsung brand. Its features include:
Super AMOLED display technology with customizable Always on Watch faces
24/7 Activity Tracking Data – 4 stage Sleep, Activity with continuous HRM and Stress monitoring
39 built in trackers
50m Water Resistance
Can be activated only with Samsung Galaxy Smartphones (Android 5.0 & 1.5GB or higher) for using in standalone 4G mode
Supports only a built-in embedded SIM (eSIM) to connect 4G LTE network. This allows the user to retain the same mobile number as the one on the Samsung Mobile.
eSIM support available on Reliance Jio (both Prepaid & Postpaid) and Airtel Postpaid plans only
Connectivity Bluetooth 4.2
Display Size 3.29cm (1.3″)
Resolution: 360 x 360
Calls and messages
2. Apple Watch Series 7
It is the best eSIM smartwatch. The top features are:
Always-on Retina display with more screen area making everything easier to see and use
The most crack-resistant front crystal yet on an Apple Watch
IP6X dust resistance and swim-proof design
Blood oxygen level with a powerful sensor and app
ECG anytime, anywhere
Heart rate monitor and irregular heart rhythm notifications
Sleep monitor
GPS
Track new tai chi and Pilates workouts, and favourites like running, yoga, swimming and dance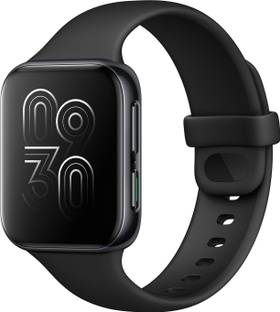 3. OPPO WiFi Smartwatch
1.6-inch Rigid Amoled Screen with 320×360 pixels resolution
300mAH Polymer battery, 14 days of Battery Life and VOOC Flash Charging
Google Android based Wear OS operating system
Qualcomm Snapdragon Wear 3100 & Ambiq Micro Apollo3 Wireless SoC processor
Built in GPS
Google Assistant
Heart rate monitoring
Sleep monitoring
Get Up Reminder
Guided breathing exercises
Call Function
Touchscreen
Fitness & Outdoor
Battery Runtime: Up to 14 days
Which smart watch has eSIM?
Answer: Apple Watch and Samsung Galaxy Watch.
eSIM is a new technology that lists a user's wireless carrier in the system settings, meaning that the user won't need to insert a physical SIM card for mobile data use on their watch. It means you can swap carriers while still keeping your number and account on any given carrier. It will fully sync your contacts list, call history, messages and more on your new carrier whether you have an eSIM or not through something called RCS-Chat.
What is eSIM in smartwatch?
Answer: E-SIM is an embedded SIM. It's a small chip embedded in wearable devices to store Control State Data and use them locally for applications. In other words, if you have a smartwatch with an eSIM card in it, the watch will function as your phone.
Does Samsung Watch support eSIM?
Answer: Samsung Galaxy Watch is only an eSIM smartwatch Samsung sells in India. It works on Jio prepaid network. As many users say, Samsung Galaxy Active 2 Watch also supports it but only when connected with a Samsung smartphone.
Is an LTE smartwatch worth it?
Answer: The things you can do with an LTE smartwatch are great. But they give up the opportunity to be a phone when it's connected to a cell tower. So, I would recommend it for sports and fitness purposes. Because if you're out of range, the functions still work without an LTE connection.
What's the LOW PRICE today?
Buy anything at the best price.
Learn More